Landscape & Hardscape Services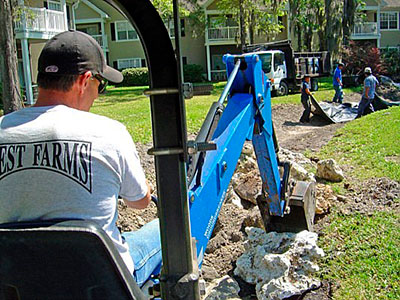 A successful landscaping project requires decades of experience, up-to-date skills, and access to all the relevant resources. At West Farms Landscape Services, we have over four decades of industry experience, and we handle all kinds of plantscaping and hardscaping services that exist in this industry. Explore the different types of services that we provide to our residential and commercial clients in North Central Florida.


Grounds Management
Our grounds management services can enhance your property's curb appeal, add floral displays, and garden, and maintain your landscape. Our lawn maintenance services include mowing, trimming, edging, debris blowing, and our lawn care services include fertilization and weed control. Our landscape enhancement and maintenance services include annual flower installation, cutting back shrubs and plants, and hedge trimming. We also provide spring and fall clean-up and irrigation services.

Shrubs and trees are continuously growing and need to be maintained in a timely manner to prevent them from becoming unruly. Part of our ground's maintenance service is to prune trees, shrubs, and flowers. We will also ensure your planting beds always look neat and clean. Our debris clearing services will clear your property of leaves, twigs, and other vegetation debris in the fall and after rain and windy conditions. This service is important in not only maintaining your property's looks, but also in keeping your visitors, employees, and customers safe. Read More About Grounds Maintenance »


Annual Beds
We install annual flowers and plans that allow you to add elegant bursts of color to your landscape all seasons of the year. When it comes to annual planting beds installation, it is important the job is handled by professionals. We will take care of all aspects of the project including plants selection, layout and arrangement, delivery, planting, and regular maintenance. Our experienced crew will both suggest and source the right shrubs, plants, annual and perennial flowers for your planting beds. Whether you want to improve the natural elegance of your existing landscape or want to add a new design theme to it, we can help you choose the right plantings to achieve your goals.

It is best to choose flower species that can thrive in the local conditions. Our selection of warm and cool-season annuals will ensure all-year-round colors for your landscape. Besides, these selections will need lesser maintenance. The addition of a variety of species will add both texture and dimension. Read More About Annual Beds »


Interior Plant Maintenance
Interior plant maintenance requires specialized experience and expertise. Our horticulture experts are familiar with all the different plant species and their unique maintenance requirements. Our services include watering adjustment, pruning, fertilization, repotting, staking, cleaning, foliage dusting, and much more to maintain the health and beauty of your indoor plants. Every plant species requires a unique kind of care and maintenance. We have the right experience, skills, and resources needed to provide the best possible care to different species of plants.

Our well-trained and qualified technicians will monitor the plants to assess the proper amount and frequency of watering. The leaves with brown tips will be trimmed and old leaves will be removed as part of our trimming and pruning services. Timely fertilization will be performed to maintain the growth and greenery. Proper lighting is an important element for the survival of plants. It is even more important for indoor plants, and we will ensure the proper plant positioning for correct lighting. Read More About Interior Plant Maintenance »


Landscape Installation
Our landscape installation services focus on achieving different goals. This includes giving an accent to your outdoors, improving curb appeal, and preventing foundation soil erosion. Our range of services includes bed preparation and plantings that include different types of shrubs, trees, annuals, and perennials. New installations will be required at specific times of the year, including spring, fall, and early summer. The project will include you in the process at every step. From the initial concept to the project completion, our landscaping experts will work closely with you to add life to your ideas and visions.

We recommend the installation of native and locally friendly landscapes. The plantings can be installed in a specific location or across the entire landscape. The use of Florida-friendly plants will further help lower maintenance. Additional benefits include the use of environment-friendly and sustainable practices. Our landscape installation services are comparable to home renovations, adding to your property in every possible way. Read More About Landscape Installation »


Hardscapes
Our hardscaping services are focused on creating a more functional and aesthetically pleasing outdoor living area. Professionally designed and built hardscapes can significantly increase your property's value. We use different types of pavers for different types of features. The selection usually depends on the type of project and your unique needs, personal style, and priorities. Besides building a custom patio, we can also add other features to it including fire pits, seating area, walls, water features, walkways, outdoor kitchen, steps, and built-in garden area among others.

We also specialize in building functionally and aesthetically meaningful retaining walls using stone, concrete, and bricks. The walls can help address drainage and soil erosion issues and alter your landscape for improved aesthetics. We design and install fire pits that help you add a radiant ambiance to your landscape and allow you to spend more time outdoors after dusk. Our hardscaping team also specializes in custom designing and installing different types of water features. Read More About Hardscapes »


Irrigation
We specialize in installing custom, smart irrigation systems that help you save water and achieve optimal landscape irrigation. Our irrigation system solutions promote deeper root growth and healthier plants. Our experienced irrigation experts will design and install fully automatic systems that provide you optimal convenience and complete peace of mind. It features a unique rain cut-off system that prevents your lawn from getting overwatered. Part of our irrigation services also includes predictive weather capability and rainfall detection. The smart sprinkler controllers ensure just the right amount of watering every time.

The benefit of choosing our customized irrigation systems is that your lawn and landscape stay lush, green, and healthy throughout the growing season. We install high-quality, low-maintenance systems that provide you with a hassle-free experience while fulfilling their specific functions. Traditional irrigation methods have been known to cause improper watering, excessive water wastage, and lots of inconveniences, while taking a lot of effort. We install systems that provide optimal efficiency and have a very low cost of operation and maintenance. Read More About Irrigation »


Water Features
If you have unique water feature ideas, visions, and accents, we have the experience and expertise to bring them to life. From the initial consultation stage to the designing phase to project completion, our clients enjoy every step of our process. Whether you need a multi-featured waterscape or a basic setup, there is no project that is too big or too small for us. Every new project we handle is unique and involves a custom design.

We design and install different types of fountains including drip drop, single-shooting, statue, and multiple-shooting fountains. Our pondless waterfall installations can be perfect for smaller spaces. Besides, we also specialize in helping you create the perfect style statement by creating unique lifestyle ponds. We can design and install fishponds, tadpole ponds, and goldfish ponds to add more life to your backyard. Our landscaping expertise means we can also infuse the water feature seamlessly with water plants, pebbles, soil, and rocks. Read More About Water Features »


Landscape Design
We are a full-service landscaping company, and all our projects begin with professional design. This involves landscape inspection, taking measurements, and assessing all the existing elements and conditions, and your unique needs and preferences. We will especially lay emphasis on the existing attributes of the land, the building's architecture, the light and shade factors, your lifestyle, and priorities. We will take all the elements and blend them seamlessly with your needs and personal style to create a custom design.

While landscaping is an excellent investment, our designing services will help maximize the potential of that investment. Our designing services go beyond the arrangement of the trees and shrubbery. Our experienced and talented designers can transform any property that makes a greater functional and aesthetic sense. We can also incorporate the design into the natural surroundings to create a uniform and seamless effect across your entire property. Read More About Landscape Design »


Landscape Lighting
Our landscaping lighting designers and technicians can design and install outdoor lighting that improves your property's curb appeal, increases outdoor safety, accentuates architectural features, and offers many other benefits. For us, there is no project that is too big or too small. As a full-service landscaping company, we bring in-depth and advanced insights into each project we handle. From design to installation to servicing, we cover all aspects of landscape lighting requirements.

We specialize in both residential and commercial landscape lighting services. Our designers work closely with our clients to understand their ideas and visions. Every custom design will be created around your landscape, preferences, and building architecture. Beautiful displays can be designed for your patio and garden and driveways and walkways can be illuminated to increase safety. Our landscape lighting services will also increase your property's functionality so that your family and visitors can spend more time outdoors. Read More About Landscape Lighting »


Pavers
We specialize in the application of interlocking concrete pavers in installing different types of hardscaping features. Besides installing your patio, we can also create walls, steps, seating areas, outdoor kitchens, walkways, driveways, and other features. We also use other types of pavers including stone and bricks. We will choose products depending on the type of project you have. The interlocking concrete pavers we use, provide exceptional durability, can withstand heavy loads and traffic, and can last long.

Pavers provide excellent flexibility. Once installed, your features can adjust and adapt to temperature changes and expansion and contraction. We use products with the lowest maintenance requirements in the market. Thus, you can have complete peace of mind regarding the cost of ownership of your outdoor features. Even when pavers get damaged, worn out, or stained by impact or regular use, they are easy to repair. Besides, pavers make an environment-friendly choices as hardscaping materials. Read More About Pavers »


Retaining Walls
We design and build retaining walls that serve both functional and aesthetic purposes for your landscape. These hardscapes are often an essential feature in many landscapes. If you are facing soil erosion or drainage issues, our designers and installers can build walls that help overcome these challenges. Our craftsmen have mastered the art of creating stunning and elegant retaining walls that can improve curb appeal and add value to your property.

Retaining walls can be made using a wide range of materials. We specialize in the use of stone, brick, and concrete. We will help you choose the right material based on your preferences and your landscape's needs. Stone blocks are known to fit together in a flawless way. They are cherished for their natural beauty and impeccable durability. We can install retaining walls using clay, lime, or sand bricks. If you prefer a color and pattern or want to complement or contrast your property, we can help you choose the right material. Read More About Retaining Walls »


Fire Pits
Professionally designed and installed fire pits can help you spend more time outdoors. We specialize in installing custom fire pits that allow you, your family, and your guests to enjoy the outdoors even after dusk. There are very few features that come close to adding the degree of warmth and ambiance to your outdoors during chilling evenings. We design and install fire pits that that also bring greater enjoyment to your outdoors.

Our experienced team specializes in the use of high-quality fire pit kits from the premier manufacturers in the market. All our work is backed by years of warranty. Whether you want an independent fire pit or a feature that is built into your patio, we have the expertise and experience to help you achieve the desired results. As a full-service landscaping company with over four decades of experience, we bring a level of insight that is hard to find elsewhere. Read More About Fire Pits »

We are always expanding our portfolio of services. So, if you have any unique landscaping service requirements, feel free to discuss them with us. You can contact West Farms Landscape Services for a free consultation by giving us a call at 352-495-9858 or send us your queries using this Online Form.